MORE INFO – MYSTIFY YOUR MIND
PURCHASING A COPY OF THIS AMAZING COLLECTION OF OPTICAL ILLUSIONS
The fact you've come onto this page means you're interested to purchase a copy of this Amazing Collection of Optical Illusions. Before you click on the final button, here is what you're going to receive
CONTENTS
Five amazing books
A Binder with an inside pocket to keep your books in.
Includes 400 plus optical illusions and mind experiments that will play with your mind. Also there are all kinds of magical puzzles, riddles to catch you out and quirky little facts that will amuse you.
COST OF THE PRESENTATION SET & POSTAGE
The cost of the set is £10
Postage & Packaging is £1.88 for U.K only
Allow 3-7 days for delivery.
INTERNATIONAL DELIVERY FEES – DEPENDS ON LOCATION
SPECIFICATION
Size of books is A5 in booklet format
Binder – Laminated on card.
400 illusions & magical puzzles.
CONTACTS
If you have problems paying with paypal or you want to look upon alternative method of payment call 07906 326377.
EMAIL – pturner.magic@ntlworld.com
IF YOU LOOK CLOSELY INTO THIS IMAGE YOU WILL SEE TWO CHARACTERS – BUT WHEN YOU WALK AWAY FROM THE IMAGE, THE TWO TWO CHARACTERS WILL DISAPPEAR, THEN A GHOSTLY IMAGE OF A FACE WILL APPEAR.
IS MYSTIFY YOUR MIND CHILD FRIENDLY & WHAT AGE WILL IT BE SUITABLE FOR?
Firstly, Mystify your Mind is child friendly. There are NO unsuitable images in the collection for you to be concern about. Edition Four theme is Spooky Images. The images in this edition are mellow Halloween material for light hearted entertainment. If you feel your child will be affected with Edition Four, it would be wise for a parent to check the content to make sure it is ok for your child to read.
 The recommended age for Mystify your Mind is from age of nine upwards. You know your child, each child is different, therefore it is to parental discretion to decide if MYSTIFY YOUR MIND will suit your child if he or she is younger.
I'M NOT HAPPY WITH 'MYSTIFY YOUR MIND' CAN I HAVE MY MONEY BACK?
Yes of course you will get a full refund as long as it is within 3 days of your purchase and the book is not returned damaged, worn or creased in any way. Postage of return is not refundable. Refund is made once the book is returned. The book will be re-sent to you if it is damaged in any way…..otherwise no fuss – money back. Any issues, call 07906 326 377.
ARE THE ILLUSIONS DIFFICULT TO FIND?
It depends how sharp your eyes are and how your mind ticks, as every mind works in different ways. What is difficult for one person may be easy for another. Yes, there are some simple illusions to kick start you into the book, and yes, there will be some illusions that will catch you out. That is part of the fun. All the answers are in the back if you are really struggling.
WHO WOULD BE INTERESTED IN 'MYSTIFY YOUR MIND'?
The market is widely open to people who are curious, intrigued, skeptical and interested in the magical and mysterious world of optical illusions and enjoy being fooled.
WILL I BE OFFENDED WITH 'MYSTIFY YOUR MIND'?
All the material in this book is clean, harmless, & safe. There are a few biblical illusions, but portrayed not to offend. No one has complained about the material in this collection of books
Please note there is a £1.88 charge for P&P. Delivery can take from 3 to 7 working days.
OPTICAL ILLUSION BOOKS
Click on the image for more details on Edition One
Click on the image for more details on Edition Two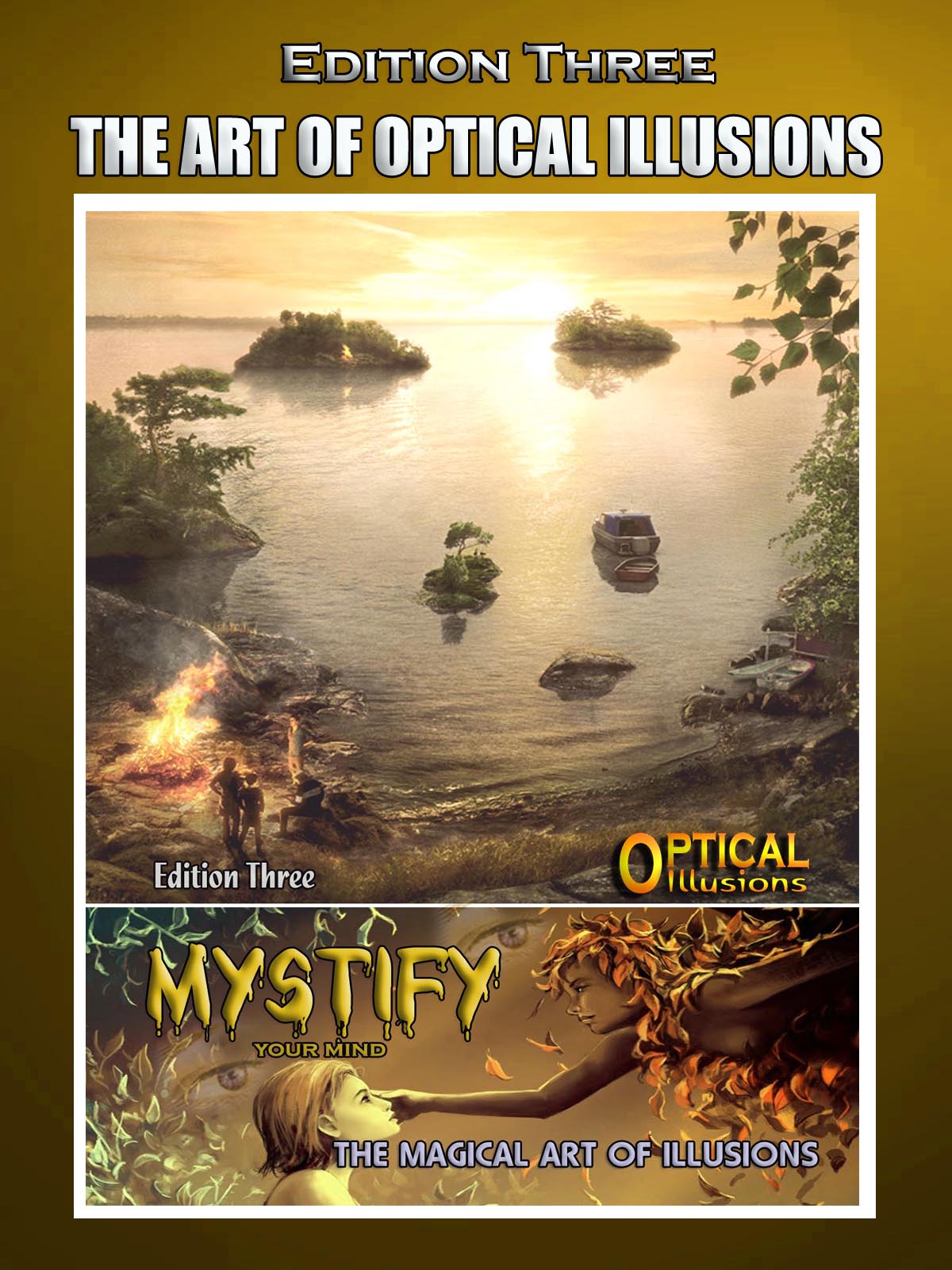 Click on the image for more details on Edition Three
Click on the image for more details on Edition Four
Click on the image for more details on Edition Five
INNUENDO OPTICAL ILLUSIONS
INNUENDO OPTICAL ILLUSIONS
This special edition of Mystify your Mind is not included in the Presentation Set
ONLY £3 FOR A COPY