Mystify your Mind Optical Box Set is an amazing collection of the very best optical illusions you will ever experience. This unique collection consists of five editions that come in a nice presentation folder that has a pocket to keep all five books together. There are over 400 fascinating illusions that will play with your eyes and your mind. 
The set of five books and the binder is only £10.
OPTICAL ILLUSIONS ARE HEALTHY – IT'S STIMULATE THE MIND
HOW LONG WILL IT TAKE BEFORE YOU SEE THE GIRAFFE?
The optical illusions in this unique collection have been carefully selected to make the series more fascinating. Each illusion has its own twist making the collection interesting and even educational. There are no boring grid/shape illusions in this collection of illusions. Mystify your Mind is full of fascinating images that will generate a lot of magical fun.
IDEAL GIFT OR A STOCKING FILLER
TEN REASONS WHY I SHOULD HAVE MYSTIFY YOUR MIND
1. Affordable – £10 for 5 books plus a Free Binder. Over 400 images – Great Value.
2. A book you can use as well as read.
3. Hardly takes up any book space when stored.
4. Stimulates the Mind – Great Exercise for the Brain.
5. Creates fun and games at parties – Perfect ice breaker and generates conversation and laughter.
6. Activity Book, "Course of Action"
7. Ageless – Universal (both Genders) – a book for the family. The book is directed and presented for the interest to Adults as well as the Children. Recommended age; from 9 to 99.
8. It's different, unusual, unique, quirky and can't be purchased from the high street.
9. Educational within the "SCIENCE OF PERCEPTION".
10. Gives you the experience that no other book gives.
If you have come this far on this website and you're now in decision mode whether to get this amazing collection of optical illusions or not, it would be good idea to look upon more details. On this page you will see the specification of the books so you know what you're getting and if there is a question you may want to know, there is a Q&A on the popular questions asked. 
OPTICAL ILLUSION BOOKS
Please note there is a £1.88 charge for P&P. Delivery can take from 3 to 7 working days.
OPTICAL ILLUSION BOOKS
Click on the image for more details on Edition One
Click on the image for more details on Edition Two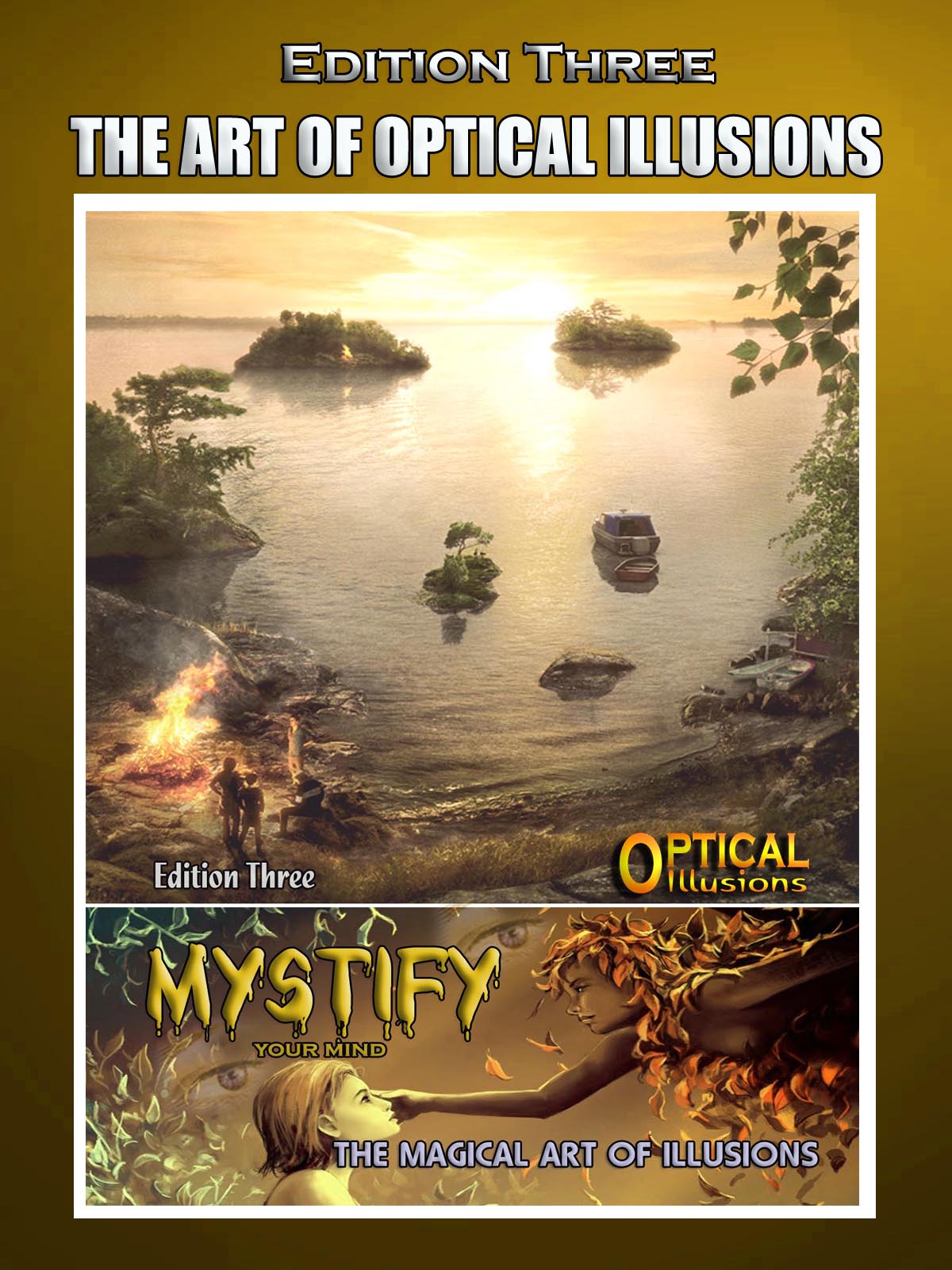 Click on the image for more details on Edition Three
Click on the image for more details on Edition Four
Click on the image for more details on Edition Five
INNUENDO OPTICAL ILLUSIONS
INNUENDO OPTICAL ILLUSIONS
This special edition of Mystify your Mind is not included in the Presentation Set
ONLY £3 FOR A COPY